RENTING DANCE ROOMS AT SAIGONDANCE
Currently, with the development of the dancing culture, the need to find rental studios has also increased significantly and requires the supplier to meet more stringent requirements than before.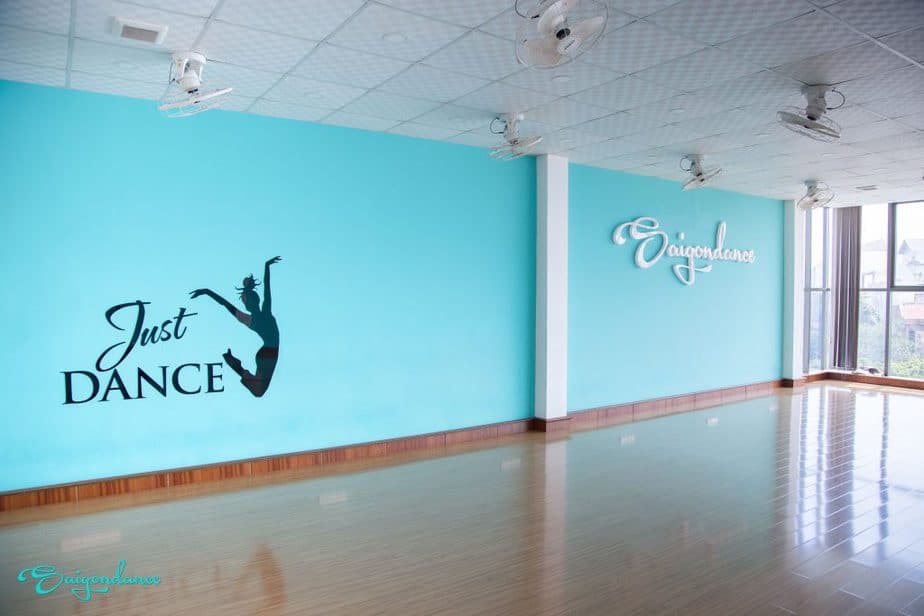 The dance studio is now not only a place to practice dancing, but also a place for dance groups / dancers to practice and capture dance moments in the most beautiful way. The place must be clean and polite to be able to appoint customers partners to observe the product, and also must have sufficient facilities (speakers, mirrors, lighting, fans, air conditioning, …) so that The dancers are comfortable to create choreography and practice, not to mention the other elements such as parking lots, reception rooms, water, convenient location, … ..
In Saigon, there are many rental studios in various districts, but to meet all the above requirements at an affordable price, not many places can satisy those requirements. SaigonDance Center is pround of more than 10 years in the field of entertainment and dancing training, understands all the wishes and requirements of customers, and has built a system of modern dance studios with quality products.

– INFRASTRUCTURE:
• Modern sound system (amplifier, speaker, connector): providing good sound quality, no crackling and noise.
• Vertical wall mirror: cleaned and checked regularly, there is no problem of cracked, broken mirror, … limiting the vision of the practitioner.
• 100% Industrial wood floors are carefully treated: ensuring good friction, not causing slippery, dancers can dance comfortably when barefoot or sport shoes / high heels, enable dancers to turn and move easily.
• Electric light / lighting system cover the room.
• Fan and Air-conditioner: fully equipped with 2 types of air-conditioned room and fan rooms, suitable for each need and fee.
• Large, airy rooms with capacity up to 30 people / room.
• Provide special dancing tools: Poles and Aerial hoops for dancers / dance groups who want to practice pole dancing and aerial, …

– CONVENIENT LOCATION: WITH 3 CONTERS AND MORE THAN 10 LARGE AND SMALL ROOMS AT THE CENTER OF SAIGON AREA.
+ Dance studio in District 1:
• 4th floor, 143 Nguyen Du Street , Ben Thanh Ward, District 1
+ Dance studio in District 3:
• 94-96 Street No. 2, Cu Xa Xa Thanh, Ward 4, District 3
• 28 Ngo Thoi Nhiem, Ward 7, District 3
+ Dance studio in Go Vap district
85 Pham Huy Thong, Ward 17, Go Vap District

– GREAT CUSTOMER SERVICE:
• Provide free water, wifi.
• Parking area right at the basement of the building: convenient for commuting, not afraid of rain and sunshine, …
• Opening time: from 6 am – 10 pm all days of the week.
• Customers can contact for advice / support information and reservations at all channels: hotline, facebook, email, or directly to the dance studio's customer service desk
• Room rent depends on the time frame and room using air conditioner or fan.


In addition, SaigonDance's strong point is its ability to provide a variety of services in the entertainment and related arts. It is very convenient for customers to want to use many services at the same time but don't want to spend too much time searching.
For quotation of each specific service / request, please contact SaigonDance Center directly.
Fanpage: https://www.facebook.com/saigondancevn/
Email: Saigonbellydance@gmail.com
HotLine in D3: (8428) 38 329 429 – 0902 322 361
HotLine in Go Vap: (8428) 3636.5202 – 0902 992 361
HotLine in D1: 0945 864 466