SaigonDance
SaigonDance marked its 10 years ceremony with a memorable night of the show "10 years of Saigon and Dance" that has received tons of compliments, as well as a milestone of owning 10 practice rooms of 2 centers in District 3 and Go Vap. Over 10 years of development, SaigonDance has truly marked its position as one of the leading dance school and event-organizing company in Ho Chi Minh City, with hundreds of thousands of courses, spread over Twenty subjects, under the guidance of nearly 50 teachers with the collaboration of hundreds of actors, artists, event organizers.
SaigonDance classes open from 6.30 am and only drop music at 10 pm. SaigonDance's dancers roam on every stage in Vietnam and neighboring countries. The image of SaigonDance often appears on the mass media and most importantly, the top name in the heart of Vietnamese dance lovers. With the relentless efforts of the whole team, SaigonDance is lucky to accompany dance lovers everywhere.
I/ THE PROCESS OF FORMATION AND DEVELOPMENT:
1. 1. THE FORMATION OF TRAN NGAN (SAIGONBELLYDANCE) COMPANY LIMITED:
SaigonDance was formerly known as SaigonBellydance, was born from a very fortuitous situation. Ms. Tran Thi Kim Ngan, in November 2017, she opened the first dance class just for free, the purpose is for communicating and making new friends. Gradually, due to her love of dance and wishing to perform a professional dance, she has transformed into a formal and professional business.
SaigonBellydance – The first Belly Dance Club in Ho Chi Minh City, was established in November 2008, with the main activity OF belly dance – a healthy entertainment art. Ms. Kim Ngan has brought a fresh atmosphere, full of vitality to Saigonese at that time.
With many success, SaigonBellydance did not stop at belly dance but under the pressure of students who love SaigonBellydance, the center quickly organized other courses such as Sexy dance, Jazz-funk, Poledance, Chairdance, Yoga…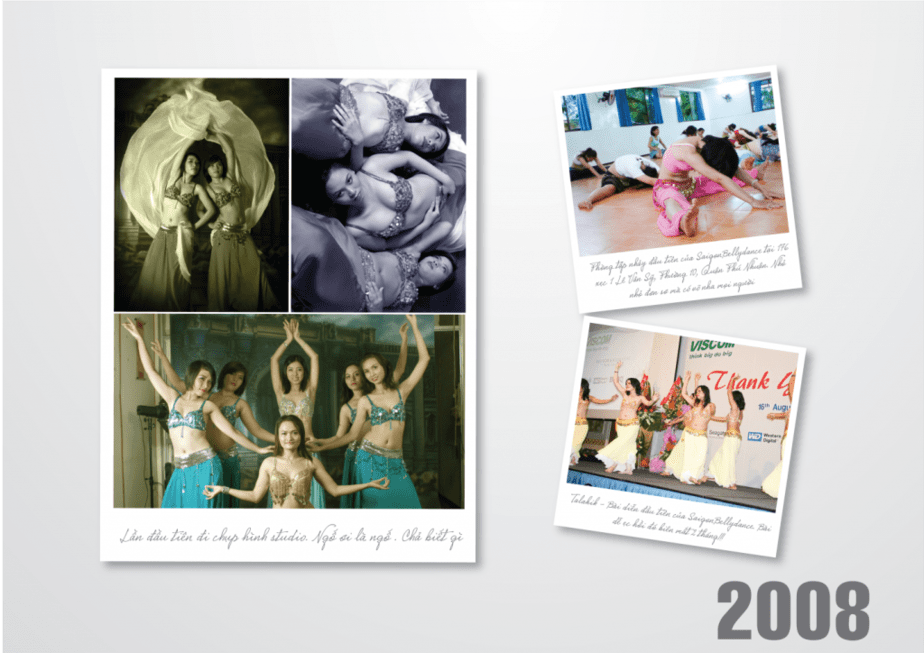 In 2012, SaigonBellydance officially transformed to SaigonDance, deployed more subjects, and officially became an entertainment dance center with a professional organization. Since then, SaigonDance has achieved many outstanding achievements, organized many big programs with a great reputation in the country and the region, many students won high prizes in talent competitions …
SaigonDance is also honored to receive the special attention of many media such as VTV, HTV, VTC, Tuoi Tre newspaper, Vietnamnet newspaper, Dantri newspaper, Dep magazine, sports magazine, New life…
2. PROCESS OF ESTABLISHMENT, OPERATION, AND DEVELOPMENT OF THE COMPANY:
• November 2007: held the first class for free at TecaPro.
• April 2008: held Bellydance class at Nguyen Binh Khiem Sports Center.
• August 2008: Basic and post-basic classes were organized at the Multicultural Sports Center 116 Nguyen Du.
• November 2008: Officially established Tran Ngan One-member Co., Ltd, the SaigonBellydance brand was placed at 176/1 Le Van Sy, Ward 10, Phu Nhuan District.
• December 2009: Successfully organized Little Cairo concert at Sky3 No. 35 Nguyen Thi Dieu with the participation of many students, actors, and international guests.
• July 2010: The company officially moved to a new location SaigonBellydance Building 94-96 Street No. 2, Residential Building Do Thanh, Ward 4, District 3, HCMC.
Since then, SaigonDance has been active with annual activities, creating a healthy environment for fans
• Annual show for teachers and actors: Little Cairo 2010, Dancing souls 2011, The body talks 2012, "10 years of Saigon and Dance"
• Talent contest for students of SaigonDance Center: Hotstep 2011, 2012, 2013, 2014, 2015, 2016, 2017 and 2018; Arena Hot Clip 2014
• Vietnam Belly dance Festival for students from domestic and foreign who love Belly Dance, to grow from small activities: Charming dancer 2010, SaigonBellydance Festival 2014, Vietnam Belly dance Festival in 2015 (April, July), 2016 and 2018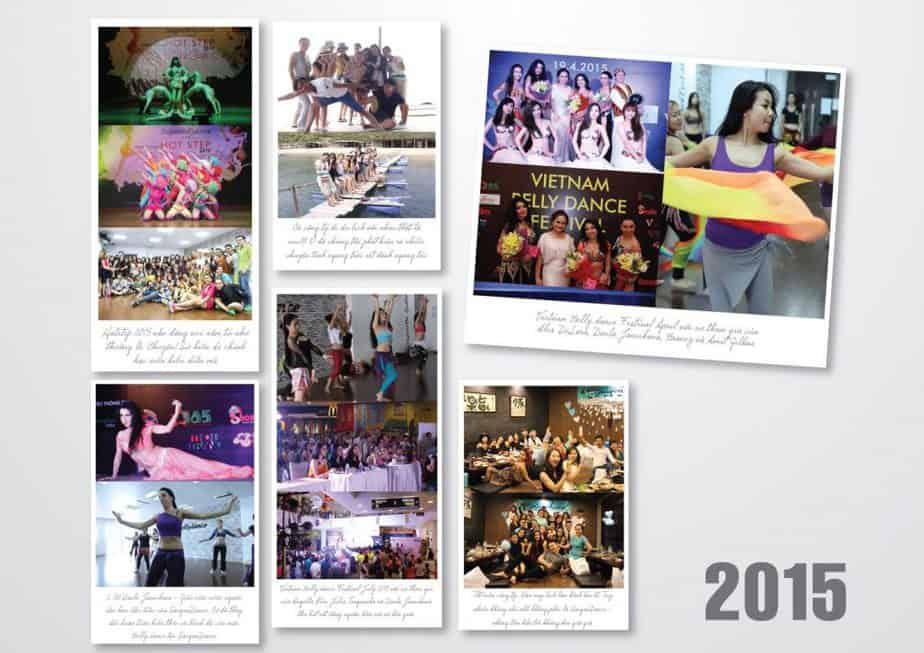 • Performing activities for children: Summer 2012 Dance, Baby's Day 2/6/2018
• Students' gratitude activities: Grateful Festival Day 2/3/2014, 2015, Halloween Festival October 20, 2015
• January 4, 2018: Opened the second facility of SaigonDance at 85 Pham Huy Thong, Ward 17. Go Vap District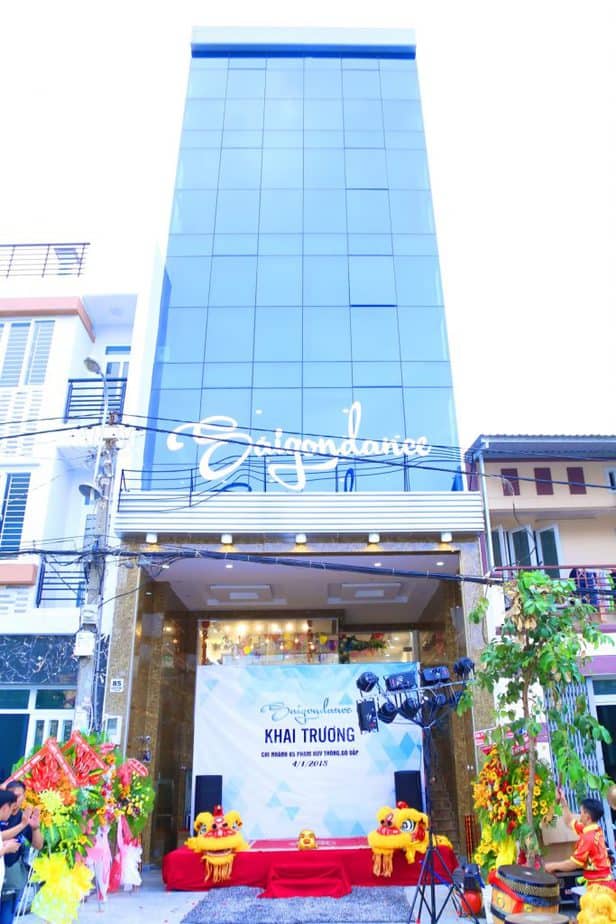 • In June 2018, SaigonDance continued to expand a training room of District 3 facility at 28 Ngo Thoi Nhiem, District 3.
II. FACILITIES AND HUMAN RESOURCES
1. FACILITY
• Over the years, our school has trained over 300,000 students, with more than 10,000 different courses. In addition to entertainment training, Saigondance also provides intensive training on many levels, from basic, intermediate, advanced, and specially trained professional actors and coaches.
• SaigonDance currently has 2 facilities in Ho Chi Minh City including 10 spacious rooms. Each training room is fully equipped with necessary equipment such as speakers, lighting, air-conditioners, etc. and design a suitable space for each subject. At each center, there is a reception service from 7 am to 22 pm every day, with a comfortable reception area.
2. BUSINESS TYPE
SaigonDance's main business is still consistent with dancing teaching activities, including:
• Organizing mass classes
• Private classes upon request, classes at students' required locations
• Choreographed for contestants to take part in talent competitions, company parties …
Thanks to the original activities of dancing training, SaigonDance easily deployed other business items:
• Renting performing costumes
• Provide dancers, dance groups
• Provide entertainment artists, event organizers …
• In particular, Event Organizing is a strong service of SaigonDance, based on 10-year experience of organizing internal events for SaigonDance. SaigonDance's event organizing service is especially trusted by customers because of its ability to organize professionally and creatively.
The event "10 years of Saigon and Dance" – is an event about SaigonDance's formation and development process that is uniquely expressed through dance language with its own unique storytelling.
3. HUMAN RESOURCES
SaigonBellydance's human resources team is divided into 4 main groups, each group focuses on its own business. The team of artists is trained in specialized skills. Teachers are trained in skills, pedagogy, and culture to communicate with students. The customer care team is always listening and fulfilling the needs of students. The event organizing team is very professional and experienced.
SaigonDance now gathers nearly 50 domestic and foreign teachers. Headed by Ms. Tran Thi Kim Ngan. She is the first Vietnamese to receive an international coach's certificate of bellydance through the Winter Intensive course- conducted by prestigious organization Ahlan wa Sahlan in Cairo-Egypt. After 10 years of operation, the school has cooperated with foreign teachers to teach at SaigonDance both long term and short term;
• Ms. Inessa Parker, a professional Russian dancer with 15 years of experience
• Ms. Sabrina, an American professional dancer with 12 years of experience
• Ms. Sandrine, a Swedish teacher with 5 years experience
• Ms. Linh Johanson, Swedish teacher.
• Ms. Kiar, Russian teacher.
• Ms. Leyla Zahar, Puerto Rico dancer
• Ms. Thery Requena, Latin dance and Zumba from Venezuela
• Mr. Debasish Pattnaik, Bollywood from India
• Mr. Amit Gilboa, Tabla drums from the United States
• Ms. Belynda Azhaar, multi-talented Bellydance artist from Australia
• Ms. Klara Daila Jansikova from the Czech Republic with 10 times of winning the Czech Republic, 3 times winning the World Cup and 3 times of the World Championship.
• Ms. Severine, champion of Bellydance Switzerland in 2013
And many other teachers.
Each teacher is trained based on each individual's strengths, plus rigorous training to build their own styles. A large staff of teachers, including many levels and different styles, have created collective strength to meet most of the students' needs. However, the only common point among teachers is to gain the trust and love of students.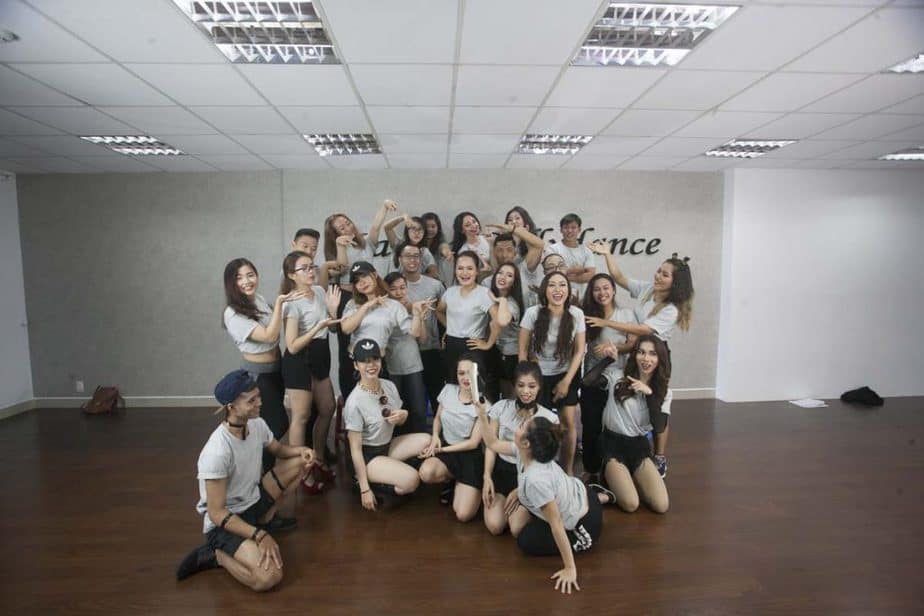 III / Some pictures and information about SaigonDance
10 years of Saigon and Dance
SaigonDance office:
+ WordPress: https://saigondance.wordpress.com/
+ Facebook:
https://www.facebook.com/saigondancevn/
https://www.facebook.com/saigonpartyevent/
+ Youtube:
https://www.youtube.com/user/thesaigonbellydance
https://www.youtube.com/channel/UCiYwbxdQWVgXBMlIZjFDyyw
+ Flickr: https://www.flickr.com/photos/saigonbellydance
Saigondance center
Website: https://www.saigondance.vn/
Fanpage: https://www.facebook.com/saigondancevn/
Email: Saigonbellydance@gmail.com
Address:
+ 94-96 Street No. 2 Cu xa Do Thanh, Ward 4, District 3, Tp. Ho Chi Minh
HotLine: (8428) 38 329 429 – 0902 322 361
+ 85 Pham Huy Thong, F17, Go Vap District, Tp. Ho Chi Minh
HotLine: (8428) 3636.5202 – 0902 992 361