Although being opened for just 1 month, SaigonDance District 1 has made significant achievements, especially with the exchange and sharing workshops.
I. GO CRAZY WITH ZUMBA TRAINERS OF SAIGONDANCE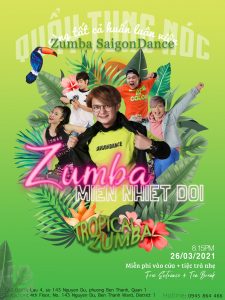 The Workshop kicked off with an extremely vibrant and fun Zumba Party with the theme "Zumba Tropical". Bustling Latin music echoes in the huge 163m2 dance room, along with energetic dance moves  and cheery laughter. The Party blew off with both students and the Zumba trainers of SaigonDance Center: Mr. Han Tri Hao, Ms. Phuong Chau, Ms. Jessie Trinh, Mr. Kelvin, and Mr. Bryan. The program took place on the evening of March 26, 2021 with nearly 40 students attending. In addition to being a training session to help you be happy, reduce stress, and lose weight, this is also an opportunity to make new friends with the other students.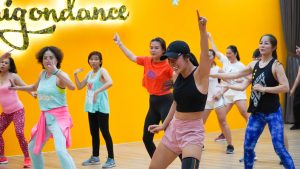 II. CONQUER YOURSELF WITH ADVANCED DANCE CLASS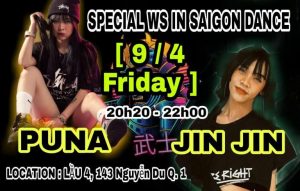 After the success of the Zumba Party, SaigonDance District 1 organized an advanced dance teaching activity – a special workshop for alumni and those who have mastered their dance levels and are looking forward to building new dance skills. This event Was held on April 9 with 40 participants. The workshop was full of energy and excellent choreography with the combined efforts between two teachers, Puna and JinJin.
Learning advanced dance techniques can be difficult and challenging. But Puna and JinJin provided a detailed and enthusiastic environment that helped the students learn theory and practice with ease.  Students finished the event excited having learned new technical skills, overcame their challenges and networked with other professionals in the HCMC Dance community.
III. CATCH TREND WITH TIKTOK DANCE CLASS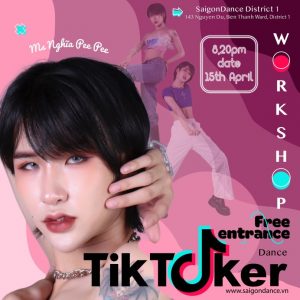 Not stopping there, after only 1 week, SaigonDance District 1 continued to launch a hot workshop for TikTok dance enthusiasts, influencers and content creators. In 60 mins Students learned how to record clips with using cute and short choreography directed by teacher Pee Pee. The Tiktok Workshop took place on April 15 with 25 students attending. Since it was a session which had filming, everyone prepared carefully for make-up and wore beautiful outfits to be able to capture memorable moments. After recording the clip, Pee Pee gave guidance on sharing to TikTok. the students then began to sharing their creations from that day on TikTok, and as a community they helped increase each others following.
IV. CONNECTION OF LOVE – AERIAL HAMMOCK YOGA DUO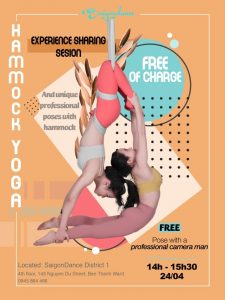 And we didn't stop there!! The Workshop "Aerial Hammock Yoga Duo" took place on April 24, attracting students of all ages to register to attend. The maximum number of students who could participate in the workshop was 28 and all reserved spots filled up fast!  Hammocks had to be reserved for the class and in almost no time they were sold out. This workshop was lead by two experienced teachers in the field of yoga, Hanh and Dung. In the 90-minute workshop, students were taught yoga exercises on the floor to open their muscles before practicing the exercises of Aerial Hammock Yoga. With the support of our cameraman, students were able capture many elegant poses in their Aerial Hammock Yoga Duo with their friends. In addition to being healthy, the Aerial Hammock Yoga Duo workshop also helped build bonds between friends and students as well as provide memories forever with the professional photos provided.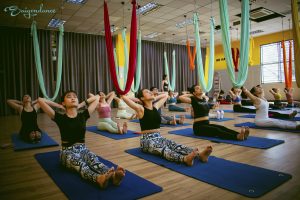 SaigonDance District 1 promises to continue to have more creative and exciting events in the future. Students who are interested and want to participate in SaigonDance's activities should follow SaigonDance Center fanpage or website saigondance.vn to ensure they don't miss any interesting events.