VIP parties are often considered private parties, which can be personal (birthday party, wedding party, bachelor party,…) or community (grand opening celebration party, exchange party, music party,…). Customization and vanity are raised to a higher level than the usual organization.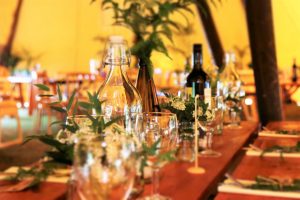 VIP parties are usually held exclusively for an important event or for some important individuals of the host. Sometimes the organizer must rely on the consent of the invitee to decide the time and place of the party. VIP parties are an opportunity to connect, maintain and strengthen long-term relationships, improve reputation as well as facilitate work.
The content and services of a VIP party will depend on the wishes of the host, so they will not follow any specific framework, with the final purpose of making the guests feel impressed and satisfied.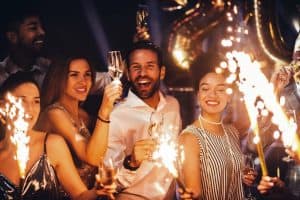 How is a VIP party different from a regular party?
Privilege: It can be a completely private party hosted exclusively for only one guest or a party organized in an area away from the crowds.
 Food and drink: guests can be prepared a special meal and enjoy premium and expensive wine or drinks.
Utilities: more advanced facilities are catered exclusively for the guests, such as VIP guests with their own nail salon, bartender serving before and after meals; In the party, there is always a professional hostess who is always available to guests, ready to serves more food, drinks or assist with other issues when guests need them; Guests have direct access to the private bathroom…
In addition, there are many other factors such as decoration, table and chair style, eating utensils, and many other customizations available…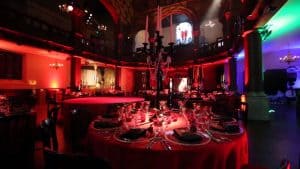 Some suggestions to organize an impressive VIP party:
Set the date: You can plan ahead and create a surprise for your guests, but this will be a little bit risky if guests can't attend. So if you want to apply this, you have to find it thoroughly and accurately understand the schedule of the guest you want to invite. If its a safe bet, you can consult your guests about their preferred date first and then choose a date that works for them.
Secure the venue: Prioritize the places that the guests are sure to go. Actively find out the guests; preferences and choose the right one. A luxurious 5-star restaurant or a cruise could be a place that satisfies your guests.
Make guests feel their presence really matters: a grand red carpet with high class reception staff, a nimble bellboy helping guests carry personal belongings, and an enthusiastic hostess to bring guests to a place that has been prepared for them, the seat is marked with a fragrant flower vase with an attached menu of premium food printed with the names of the guests.
Book performance and other services: You want to create a very formal VIP party with a band having professional singers, a private chef serving on-site cooking demonstrations, a fiery samba dancer, or a professional magic circus performer… Everything will depend on your wishes in organizing the party so that your guests will have the best experience.
Photography and gifts: Many guests love to capture beautiful moments of the party. Your party will become more memorable if you book a photography service. Set up a beautiful decorative background so guests can pose for photos in front of it. You can also hire a cameraman to record the party. Sending thank you cards to guests with pictures of them enjoying the event will be a meaningful gift. If you don't have time to prepare photos, a spa voucher or a gift voucher to take home will also make your guests feel important even after the party.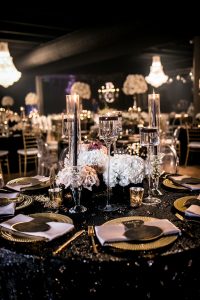 A VIP party always requires perfection in all aspects, so we must ensure a meticulous, detailed, and flexible plan. However, if the planning process becomes too difficult, a professional event company is a great solution.
SaigonDance – Tran Ngan One Member Co., Ltd., with more than 13 years of experience in event organization – will enthusiastically advise in detail and give recommendations about content, personnel, location, and requirements depending on the customers wishes and needs. Let SaigonDance take care of the hard work So that the party members can enjoy an intimate and perfect experience:
Securing restaurants, hotels, bars, lounges, beer clubs, villas,… bookingvenues for the parties
Providing beautiful decoration service for the party
Booking pretty and party-rocking female DJs to rock the music at the party
Providing sexy dance dancers, pole dancers, fiery samba dancers
Providing sexy strip dancers, lap dance, chair dance dancers
Providing male sexy dancers, male pole dancers with 6 pack body
Supplying professional bartender
Providing an MC
Booking bands, singers to perform at VIP parties
Providing film crew & photographers for taking photos & videos at the parties
Supplying beautiful female service staff, hot boy service staff
Working with the client to provide any custom or event-specific party needrequired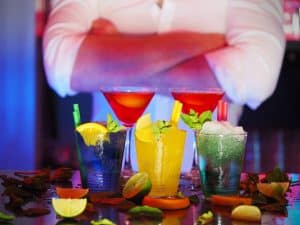 SaigonDance Center – Tran Ngan Co., Ltd specializes in providing professional dance crews with a full range of different dance genres: Modern Dance US/UK, Korean Modern Dance (Kpop Dance), Sexy Dance, Belly dance, Contemporary dance, Indian dance (Bollywood), Chinese Classical dance, Carnaval dance, Pole dance, LED screen interactive dance, Water Drum dance, Hoi Drum dance, Fire dance, Cheerleading dance, and more!
In addition, SaigonDance also provides other creative services for party events such as Halloween costume, Living statue, body painting, interpreters, Calligraphy master, stilts, comedy groups, musicians, bands, filming crews, cheerleaders, magicians, bilingual MCs, provides PB, PG for event, models, bartender, singers, DJ and many other services based on the request and requirements for the event programs.
Need advice or have questions about SaigonDance private party services? Please
contact the hotline: 0902.322.361