Weddings are an important event in anyone's life. A bachelor or bachelorette party is one last exciting event in someone single life before the future bride and groom commit to each other forever.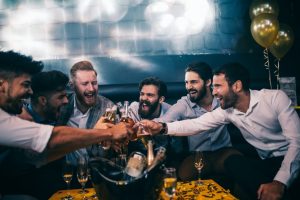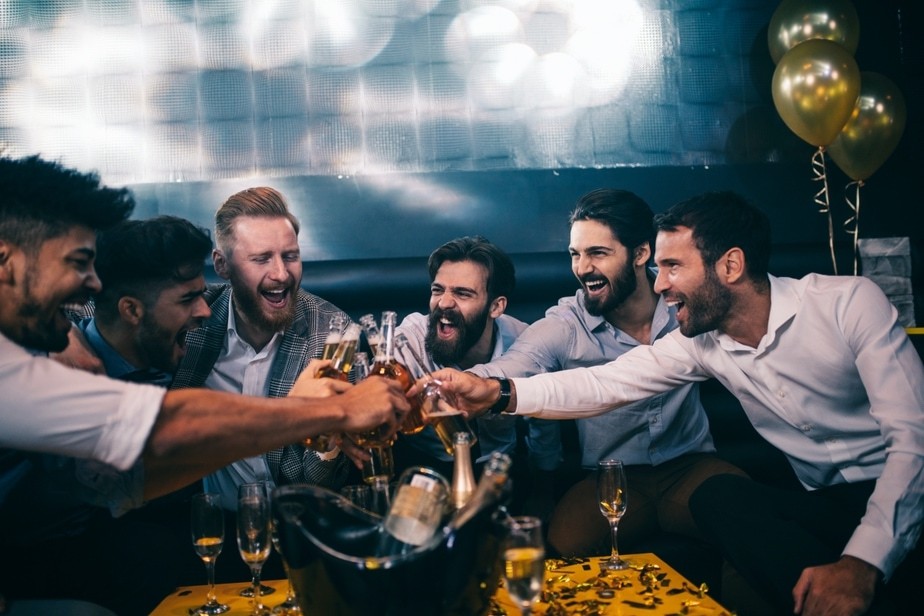 The bachelor party (or Stag Weekend, Stag Do, Stag Party as it is called in Europe; Buck's Night as it is called in Australia) is the name of a party exclusively for the soon-to-be-married man. In the past, bachelor parties were only popular for men, but later became popular for women as well, called Bachelorette Parties or Hen Nights.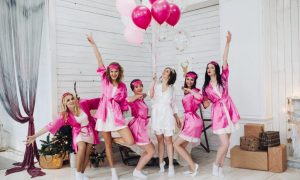 Parties revolve around eating, games and activities that the bride and groom want to do before entering married life. The bachelor / bachelorette party is not only a time to relax, celebrate the say farewell of their single life, but also a challenge or test for pre-wed couples to be more attentive and responsible when starting the process of building a new family or life together.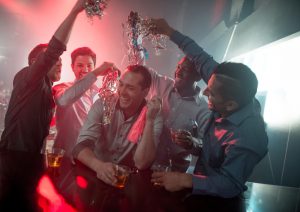 The bachelor / bachelorette party has an implicit rule that no future wife will appear in the husband's party and vice versa. Because this is the last private time for each other. The content of the party is completely confidential and the party participants are sworn to secrecy. In Vietnam, friends of the bride or groom plan the event and share the costs.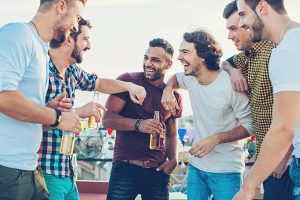 WHAT DOES A BACHELOR PARTY HAVE?
The bachelor party is not organized according to a certain form or pattern. Each country in the world will have different ways of holding bachelor parties depending on cultural and social aspects. In Vietnam, bachelor parties will also have appropriate changes so that future couples can have a happy, healthy and meaningful bachelor party. The time to organize a bachelor party in Vietnam usually takes place more than one week before the wedding day, or it is combined with a birthday party, year-end party, so that future couples have enough time and health to prepare for the traditional wedding ceremony. The bachelor party can last for one night or several days in a row, depending on the economic conditions and needs of each person.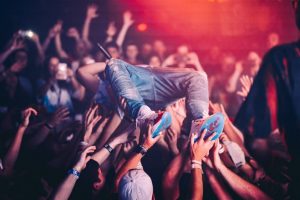 *Some popular content in the grooms bachelor party:
– Organize a wine or beer party with delicious food to help you have a full night of drinking without fear of complaints or fear of safety
– Go crazy with music in bars or clubs.
– Play the childish games with your friends, play pranks on the soon to be groom
– Organize singing all night to the party goers favorite songs
– Chat with your close friends over a cup of coffee if you are a guy who doesn't like the hustle and bustle of the nightclub. The groom and his friends can reflect on the times when you were single and share your experiences.
*Some popular content in the girl's party:
– A gentle tea party or luxurious wine party for the girls to have enough energy to chat all night.
– The bride is given meaningful gifts by her friends.
– Enjoy cooking together as well as test the courage of the bride-to-be.
– A group photo session to save the "crazy" and memorable moments.
– If you are a rebellious girl, wear a cool dress and go to a bar or sing karaoke with your girls to have a blast.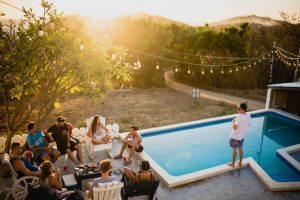 WHERE TO ORGANIZE A BACHELOR PARTY ?
– If you are a person accustomed to home coziness, holding a bachelor party at your own home is a reasonable choice. Your house can be beautifully decorated, bustling with music and laughter of friends. An event at your home will make the surrounding atmosphere more intimate. You also won't be too worried about where to rest when your friends have no strength left to go home. Although it takes a lot of time to clean up, your bachelor party will be really meaningful and very cost-effective.
– If you like a new, comfortable place and don't want to bother your family or neighbors, then organizing a party outside is a great idea. A luxurious restaurant or a cool villa with a spacious swimming pool, a quiet rooftop bar or a jubilant beer club, the extra cost provides you the ease of not having to clean up after.
– For boys and girls who love simplicity, they can organize bachelor parties in the form of: traveling, backpacking, camping, mountain climbing, spa services (massage, hair care, skin care, nail art…)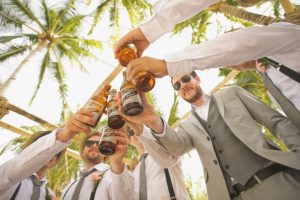 WHERE SHOULD I BOOK THE BACHELOR PARTY ORGANIZATION SERVICE?
With more than 13 years of experience in organizing events and grasping trends and needs of customers. SaigonDance – Tran Ngan One Member Co., Ltd. is a reliable choice for consulting and booking talent and locations. SaigonDance leads the way in meeting bachelor party organization needs at the request of customers, with wide variety of services including but not limited to:
– Securing restaurants, hotels, bars, lounges, beer clubs, villas,… booking venues for bachelor parties.
– Providing beautiful decoration service in bachelor party.
– Booking beautiful and party-rocking female DJs to rock the music atthe party.
– Providing sexy dance dancers, pole dancers, fiery samba dancers.
– Providing sexy strip dancers, lap dance, chairdance.
– providing male sexy dancers, male pole dancers with 6 pack body.
– Supplying professional bartender.
– Providing MC
– booking bands, singers to perform at bachelor parties.
– Providing film crew & photographers for taking photos & videos at the parties.
– supplying beautiful female service staff, hot boy service staff.
– working with the client to provide any custom or event specific party need required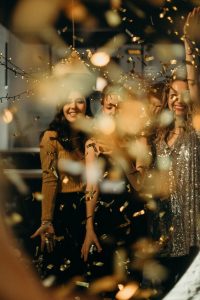 SaigonDance Center – Tran Ngan Co., Ltd specializes in providing professional dance crews with a full range of different dance genres: Modern Dance US/UK, Korean Modern Dance (Kpop Dance), Sexy Dance, Belly dance, Contemporary dance, Indian dance (Bollywood), Chinese Classical dance, Carnaval dance, Pole dance, LED screen interactive dance, Water Drum dance, Hoi Drum dance, Fire dance, Cheerleading dance, and more!
In addition, SaigonDance also provides other creative services for party events such as Halloween costume, Living statue, body painting, interpreters, Calligraphy master, stilts, comedy groups, musicians, bands, filming crews, cheerleaders, magicians, bilingual MCs, provides PB, PG for event, models, bartender, singers, DJ and many other services based on the request and requirements for the event programs.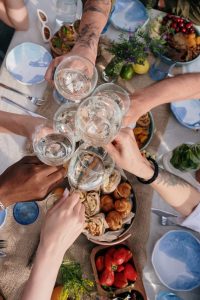 Need advice or have questions about SaigonDance bachelor party services? Please contact the hotline: 0902.322.361